I just…so overwhelmed right now…with helplessness. Rita, a category five hurricane—strongest of the category fives—is hurling towards the town I grew up in…it's just…catastrophic.

And I feel guilt for my fear…look at all those who suffered the wrath of Katrina…why am I worried now for my family?


Because they are mine and I'm not there…it's as simple and as stupid as that.

I remember Andrew in '92…because let's face it, I was living in Florida and actually talked to other people…but I was here (in Canada) when it hit…on vacation in Toronto, out of the way of danger…I remember coming home and seeing houses destroyed…and I remember us…as little kids sing-chanting "Home's dead, home's dead," because Homestead had been smashed to the ground.

Is it actually POSSIBLE we didn't know? We couldn't understand, due to youth…or…whatever…that Andrew caused this: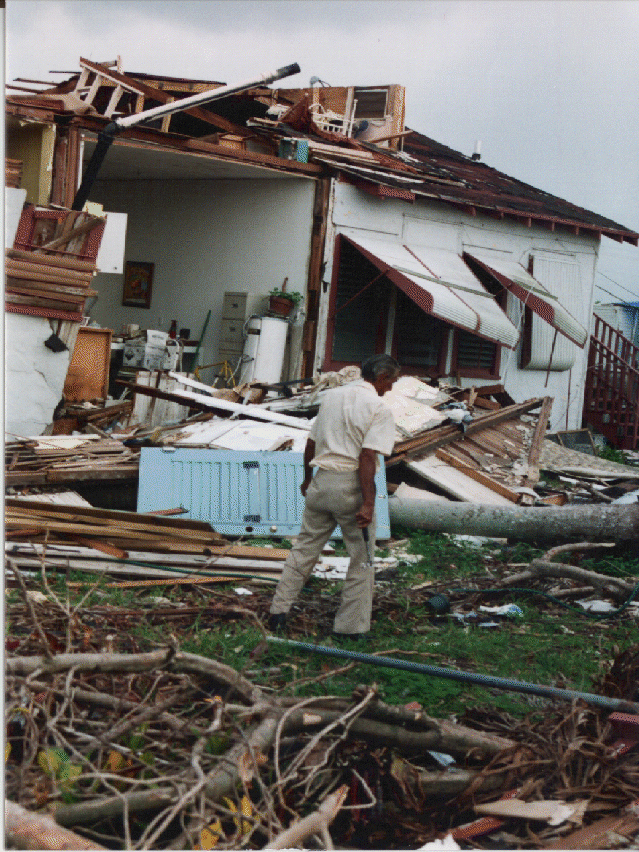 Two days before the hurricane even thinks about hitting land…and I'm a mess...maybe this is the penance I pay?

Everyone's safe…my brother didn't end up driving to Florida…my Mom's okay, Dad's okay, Val's…well, unreachable, but she's texting me, so she must be alright…the rest of my immediate friends are out of the state or far enough west to not warrant panic…then I start thinking about the rest of my world…

I have so many friends whose families still live in the Houston area. I mean…some of these people took care of me when I couldn't handle home.

And I hear stories of fist fights in grocery stores over water…and gas being sold out…and I think of water rushing over those 18 foot walls in Galveston and swallowing the city whole…I think about the rain pelting my family for twelve hours…and I just do all I can not to cry.

I hope and pray that Katrina was a warning to the arrogant…showing the world what it means to be poor and what exactly is evil…

Not to be repeated…

Until Sunday dawns clear and bright…I wait…and I hope…Please…whether or not you believe…keep the people in the path of Rita in your thoughts.

Lord knows that's what I'm doing…


Please…just...please...
Quote of the Moment:
"Forecasters said Rita could be the most intense hurricane on record ever to hit Texas, and easily one of the most powerful ever to plow into the U.S. mainland. Category 5 is the highest on the scale, and only three Category 5 hurricanes are known to have hit the U.S. mainland — most recently, Andrew, which smashed South Florida in 1992."
Soundtrack of the Moment:
Music is for rejoicing…
Movie/TV Quote:
From The Perfect Storm, "May you rest easy long-liners, in fair winds, and calm seas...For those of us left behind, the vast unmarked grave which is home for those lost... is no consolation. It can't be visited, there is no headstone on which to rest a bunch of flowers...The only place we can revisit them, is in our hearts, or in our dreams...Well we'll dream for you...Sleep well...Good Night..."